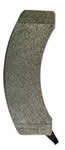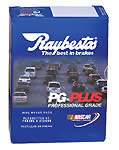 PG PLUS™ Disc Brake Pads provide the most complete line of premium quality brakes in the industry. Engineered to provide the best overall premium performance for everyday driving conditions, PG PLUS Brake Pads offer vehicle specific formulations to assure safe and consistent stopping. PG PLUS is D³EA® Certified to meet Federal Safety Standards for original equipment. Best results when used with PG Plus VSM™ Rotors.
Feature: Provides the most complete coverage in the industry
Benefit: Right part, right place, right time
Feature: Vehicle specific formulations
Benefit: Ensures safe and consistent stopping
Feature: Semi-metallic and organic formulations
Benefit: Provide long life
Feature: Shimmed, slotted and chamfered where specified by Original Equipment
Benefit: Provide optimum noise suppression and performance
Feature: Riveted and integrally molded configurations
Benefit: Consistent with Original Equipment designs
Feature: Post-cured
Benefit: Requires no break-in period, for safe and consistent performance
Feature: D3EA Certified
Benefit: Consistent with Federal Safety Standards required for new vehicles.